The Warhawks hit the field again today and the first place I checked out was the big uglies. Louisiana-Monroe returns the best and most experienced Offensive Line in the Sun Belt Conference. Leading the charge is big #75,
Kyle Cunningham
.
At 6'4 295 pounds Kyle (pictured below) is an opposing figure but standing next to Doug Stroud (pictured below), well lets just say I wouldn't want to get caught between them. A red shirt freshman from Evangel Christian in Shreveport, Stroud is an incredible 6'6, 350 pounds. I call him the "Immovable Object" because you will not move him or go around him.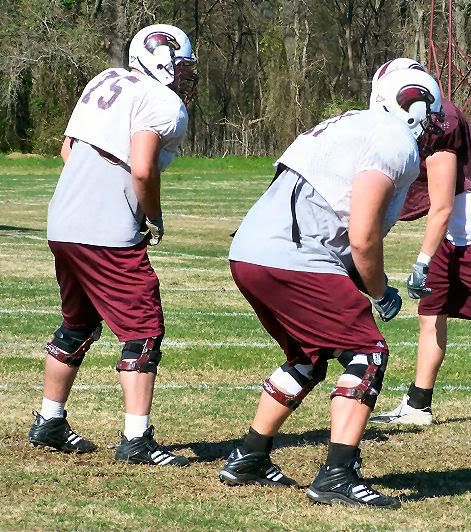 #75 Kyle Cunningham and #71 Doug Stroud will form a wall for Kinsmon Lancaster.
Listening to those pads popping made you wish it was September already. The D-Line and O-Line really went after each other today. DE
Aaron Morgan
(below) shined as he was able to spin and juke his way for several would be sacks.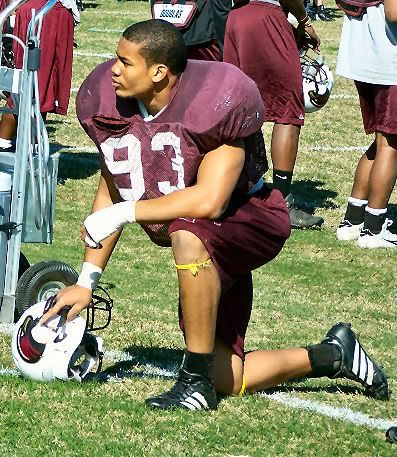 #93 Aaron Morgan led ULM with 4 sacks last season in limited action. He will double that number this year.
At DT, Kendall Mouton (below) used his huge 6'1 315 pound frame to bull rush up the gut. Opposing teams will find it difficult to run up the middle against Louisiana-Monroe. As good as the Offensive Line is, I would say the Defensive Line held its own today.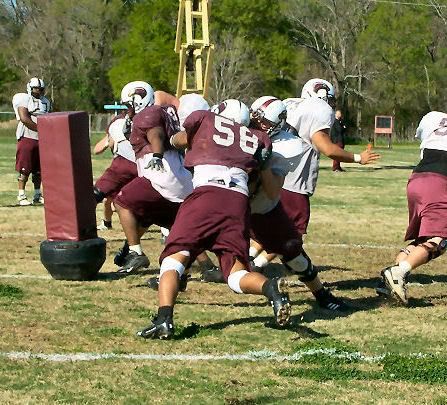 The big uglies and down lineman going at it.

The lineman weren't the only ones I was able to check out today. I reserved a little time for the CB's and DB's. Although ULM lost 2 superstars in
Kevin Payne
and
Chaz Williams
they still have plenty of talent waiting in the wings. #21
Quintez Secka
(below), or "Q" as his teammates call him,had a big day. He picked off several balls that would have been returned for six points.
There was a pleasant surprise as well for Louisiana-Monroe fans. #2
Greg James
was back on the field and in full gear. James (below) had a super year as a freshman intercepting 6 passes.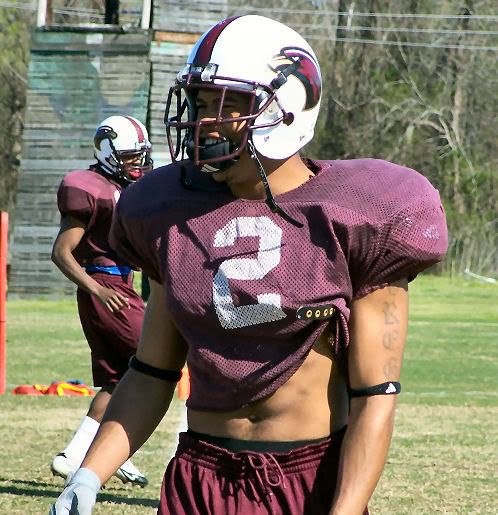 The Warhawks will be in full pads tomorrow as they will hold a spring scrimmage at 9AM in Malone Stadium. All fans are welcomed to attend.